Episodes
Tuesday Dec 28, 2021
Tuesday Dec 28, 2021
Van is joined by Bobby Nash, Jim Yelton, Percival Constantine, Bobby Politte and Susie Politte to discuss the first three MCU TV shows from Disney+. Recorded live for the Hoover SF & Fantast Fest 2021!
Thanks to all of our patrons for making shows like this possible! We have no advertisers and are entirely supported by our great listeners!
Be a part of the White Rocket Entertainment family by becoming a patron of the shows: https://www.patreon.com/vanallenplexico
Brought to you by White Rocket Entertainment.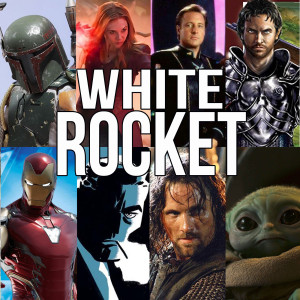 Friday Oct 17, 2014
Friday Oct 17, 2014
For the big 50th episode of the White Rocket Podcast, Van is joined by many past guests including Anthony Taylor, Jim Beard, Chris Barnes, Jim Yelton, Josh Reynolds, John Quiring, Barry Reese, Bobby Politte, John Ringer, Mike Gordon, Ethan Ringer, Ralph Angelo, and Percival Constantine--and everyone has to answer the same single pop-culture question. What's the question, how do they answer--and will Van answer it, too? Tune in!